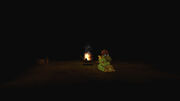 Bonfires serve as rest spots in Fragile Dreams: Farewell Ruins of the Moon. By building a bonfire at any of the fire pits scattered along the way, Seto can avoid any enemies in the environment, organize his inventory, and take a rest from his journey. Most importantly, Bonfires serve as the save spots for recording game data.
Seto is first taught about building bonfires by Personal Frame, who insists that rest and safety from nearby enemies is of utmost importance. Additionally, after the initial meeting with the Item Merchant, there will be a random chance that he will appear to barter with Seto.
Ad blocker interference detected!
Wikia is a free-to-use site that makes money from advertising. We have a modified experience for viewers using ad blockers

Wikia is not accessible if you've made further modifications. Remove the custom ad blocker rule(s) and the page will load as expected.