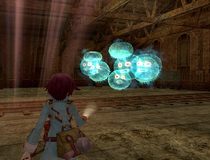 Thought Entities are the manifestations of strong emotions left behind by the departed. Thought Entities take on many malicious forms and are first the primary enemies introduced in Fragile Dreams: Farewell Ruins of the Moon.
Appearance
Edit
Malicious Thought entities take on many forms. (See List Below)
List of Thought Entities
Edit
If the player loses all Hit Points (i.e. dies), a short scenes plays showing a jellyfish floating in blackness. This can possibly show that Seto's emotions manifest as one of the Jellyfish thought entities in death.